High Energy Progressive Rock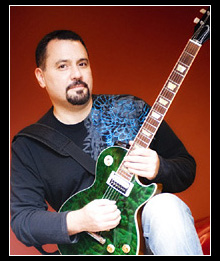 Carl Roa is the guitarist of the highly acclaimed progressive rock groups, Magic Elf and Carl Roa Band.
Whether ripping through a supercharged rock solo or gliding through a maze of soulful chord progressions, Carl's ability to balance musicality and technique has delighted music fans worldwide.
Receiving accolades from Guitar World, Progression and Billboard magazines, Carl's unique and diverse playing style has put him in the forefront of today's progressive rock / fusion movement.
Press / Reviews
"Ass-kickingly ferocious jazz fusion/progressive hard rock... Roa is an extremely formidable player"
- Guitar World
"Carl Roa's playing on the new CD is phenomenal! Great work man!"
- John Petrucci of Dream Theater
"Hot all-instrumental progressive...prolific chops"
- Progression Magazine
20th Century Guitar Magazine - Magic Elf feature article - PDF
Guitar World Magazine - Magic Elf "Introducing" article - PDF
"...Without a doubt, the Elf packs a punch; their all-instrumental music is ass-kickingly ferocious jazz fusion/progressive hard rock... echoes of the Dixie Dregs, Allan Holdsworth and Rush can certainly be heard throughout... along with a few traces of both Bach (Johan Sebastian) and Beck (Jeff). Roa is an extremely formidable player... a must-hear for any serious fans of creative, technically proficient prog rock...
-GUITAR WORLD MAGAZINE

"Hot, hot, hot all-instrumental progressive... slightly jazzy in spots, hard rockin' elsewhere... This music is played with the utmost confidence and conviction, possessing just enough compositional framework and melodic content to lend the trio's prolific chops a sense of cohesion. I dug this disc least as much as anything the Dregs have released in recent memory."
-PROGRESSION MAGAZINE
"A self-contained band of virtuoso players and musical highbrows, the Elf take on a number of classic vintage styles yet truly come up with a new and novel twist. Astute fusion fans may detect influences like Holdsworth and The Dixie Dregs, and at times even discern rock influences like Yes and Gentle Giant. These guys play up a storm! Magic Elf cleverly revives the dormant American instrumental rock fusion genre with ease and jazz-rockers owe it to themselves to hear Magic Elf."
-20th CENTURY GUITAR
"WOW!, talk about a power trio, where have these guys been? ...Miranda's impressive speed and chops should make him a favorite with fusion drummers. Roa has a solid feel for rock and fusion which makes for an interesting variety of sounds... The Elf rules!"
-FUSE MAGAZINE
"Guitarist Carl Roa is a cross between Alex Lifeson, Joe Satriani, and Steve Morse. His tone is massive."
- MODERN GUITARS
"The Magic Elf draw their main inspiration from guitar music which is technically brilliant but also partly fast, reminding me of Steve Morse or Joe Satriani. Add half a teaspoon of Rush, hard rock/progressive/jazz fusion/country to blend into the rocky / proggy dwarf cocktail. In their technically abilities, the trio are no dwarves at all, and their compositions live from changes between hard riffs and melodies. Rocking instrumental music with few weaknesses..."
-PROGRESSIVE NEWSLETTER, GERMANY
"This is surely one of the finest instrumental rock albums I've heard in a long time with musicians of great virtuoso. A very interesting band."
-iO PAGES, NETHERLANDS
"Roa's effortless exuberance on six strings and Miranda's prog-style drumming naturally lead to comparisons to the Dregs and Rush, however the deep, spiritual elfin vibe permeating the music has no equivalent. Prepare yourself for terrifying chops, unpredictable guitar solos marked by an absence of cliches and clever album concepts, and you'll be ready to meet Magic Elf."
-GUITAR NINE RECORDS
"Thematic collection of extremely intense all-instrumental rock-progressive-fusion that is nothing short of superb! The playing, musical concepts and songcrafting are of the highest caliber, the skill and experience of these guys is more than evident throughout. Roa's solos and melodies are tasteful and inventive... Although these maniacal minstrels display incredible chops, one might argue that the most magical quality of the music can be found in the tale that each song tells. It shall not be long before Magic Elf finds its way into the vocabulary of every fusion enthusiast."
-GUITAR 2001 MAGAZINE
"…Magic Elf will blow you away if you like technical progressive fusion…"
-AURAL INNOVATIONS
"… exceptional technical excellence…"
-Ian Anderson, JETHRO TULL
"…high intensity… accomplished musicians… sense of humor…"
-EXPOSE'
"…warmly recommended to those liking well-made fusion…"
-COLOSSUS MAGAZINE (Finland)
"…One of the biggest surprises of the past year… each of the songs is perfect…"
-ATROPOS (Spain)
"… talented band… you'll love them for they are just brilliant…"
-ACID DRAGON (France)
"…masterfully played and composed…the songs and concept are clearly the focus…"
-MUSIC MONTHLY
"…make no mistake about the talents of these three musicians… well composed musical compositions…"
-LONG ISLAND ENTERTAINMENT