Videos, CD's and DVD's
New DVD Release
Carl Roa Extreme Guitar Workout DVD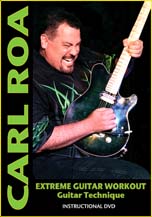 Carl Roa, acclaimed progressive / hard rock guitarist of the band MAGIC ELF, leads you through a comprehensive technical guitar workout, sure to challenge players of all levels.
In this action-packed DVD, you'll find sections on Alternate, Hybrid and Sweep Picking, String Skipping, Legato Playing, Major and Pentatonic Sequences, Arpeggios and more. This program will arm the progressive / hard rock / fusion guitarist with the killer skills necessary to stay on top. Also includes great warm-ups, exciting song performances and an informative gear section.
New CD Release!
Lord of the Strings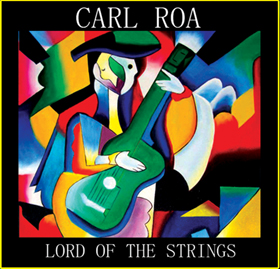 Audio samples coming soon!

Super intense instrumental / progressive / hard-rock by Carl Roa of MAGIC ELF, featuring guest artists:
TONY ROMBOLA of GODSMACK
MICHAEL ANGELO BATIO
ANDY WOOD
JEFF BABKO
TRAVIS LARSON
MAGIC ELF
"High Intensity Rock - Lead Guitar" DVD available now!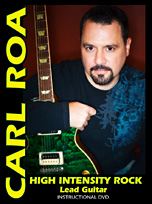 Carl has completed his first instructional guitar DVD, entitled "High Intensity Rock - Lead Guitar". The lessons found on this DVD will help you become a better player!
In this information-packed 90 minute DVD, you'll find sections on phrasing, building an intense solo, voice leading, concepts for playing over common rock music chord types including Major Scale Modes, Pentatonic and Blues, Melodic Minor, Harmonic Minor, Triads and Arpeggios.
There are also bonus features including full song performance, detailed interview and a section on Carl's gear. Available now!